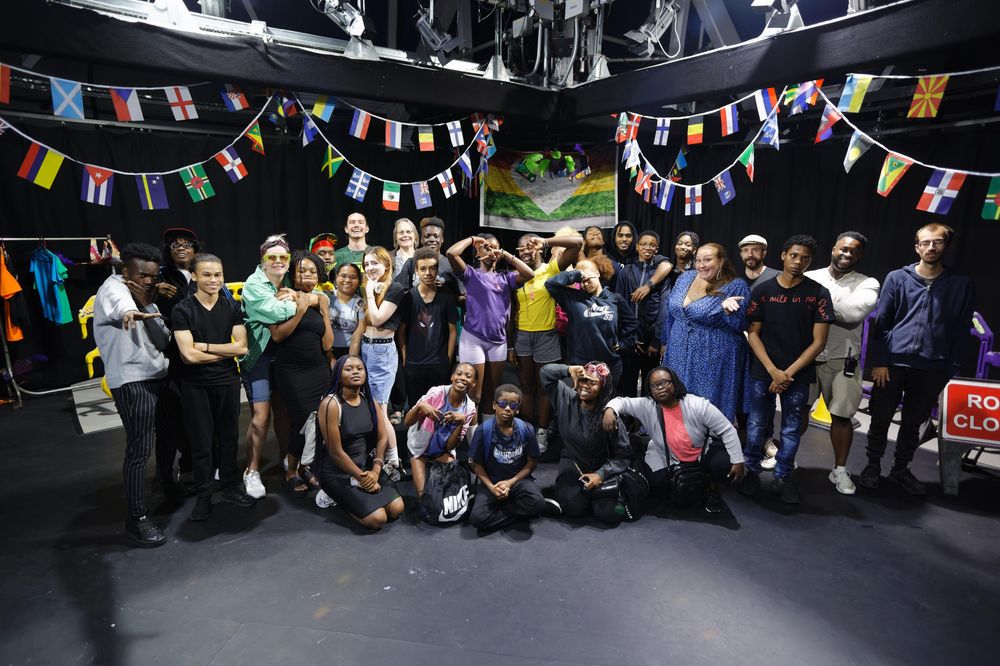 The
Team
At Immediate Theatre, we're more than just a team - we're a community of passionate and dedicated individuals who share a common vision of using the arts to create positive change in our society.
Jo Carter (she/her)

Artistic Director

jo@immediate-theatre.com

Jo established Immediate Theatre in 1996 to create a relationship between her work and the community in which she lives, Hackney. Prior to this, Jo worked as a freelance director and project development worker for a range of organisations leading new writing and education programmes. These included: the Royal Court, Paines Plough, the Liverpool Everyman, Theatre Venture, Theatr Powys, the Half Moon Young Peoples' Theatre. Jo is Chair of Governors for a local Primary School, trustee of Maya Productions and Mimbre, a local Arts Council National Portfolio Organisation, and has delivered consultancy projects for the Round House and London Bubble.

During her career, Jo has developed plays which introduce older audiences of differing cultural backgrounds which was invaluable when delivering intergenerational work with funding from Arts Council England and Heritage Lottery. She has had huge success winning funding bids for Immediate, including large contracts of over £300,000, resulting in a turnover of £850,000. This reputation was recognised widely, with Jo winning awards for excellence from the Learning Trust and National Social Care & Health projects. With Immediate, Jo conceived the EbYT model, providing sustained arts activities in the most deprived areas of Hackney, and has also led on Theatre Pathways, tackling inequality for BAME young people seeking a career in the arts.

Suzy Smith (she/her)

General Manager

suzy@immediate-theatre.com

Suzy joined Immediate Theatre in June 2020, bringing with her 20 years of experience in community arts. Prior to this, Suzy was Executive Director at Theatre Peckham, an Arts Council National Portfolio Organsation, providing performing arts education and pathways into the creative industries for young people from the local community.
Suzy started her theatre career working in costume, eventually becoming Wardrobe Mistress on Les Miserables London and taking the production on tour to Dublin and Edinburgh. After completed a postgraduate diploma in Arts Management at Northumbria University, she spent several years as a Drama Officer at the Arts Council (East Midlands) before returning to London and joining Theatre Peckham.

Charmain Humphrey (she/her)

Participation Manager

charmain@immediate-theatre.com

Charmain started working with Immediate Theatre in 1999. She initially became Project Coordinator for the Meet the Parents project in 2004. Her extensive experience of sex and relationship training has made this one of our most successful projects and the project is still up and running in schools across the borough today. Charmain is a level 1 and level 2 accredited tutor and has taught in a diverse range of educational settings across Hackney for over 20 years.

She has since stepped into the role of Participation Manager, taking on the management of the Estate-based Youth Theatres, the cornerstone of Immediate's work within the community, as well as our work in Pupil Referral Units. Charmain has many strings to her bow and works across numerous projects for the company, as well as being the Deputy Safeguarding Officer. She is an extremely dedicated member of staff, so much so that we find it difficult to get her on annual leave! You will always spot Charmain from the crowd, with her amazingly polished nails and larger-than-life earrings!

Hannah Drummond (she/her)

EbYT Involvement Coordinator

hannah@immediate-theatre.com

Hannah came to Immediate Theatre through a Professional Placement in 2018, this was part of her Applied Theatre Degree at the Royal Central School of Speech and Drama. Fast forward to now Hannah has worked across various projects at Immediate Theatre, predominantly within our Estate Based Youth Theatre (EBYT) team. Hannah is now settling into her new role as our EBYT Involvement Co-ordinator, working closely with our team Hannah supports the running of the EBYT programmes, engaging young people in meaningful conversations and supporting them to build up their self-confidence using drama as a vessel.

Aside from her role within Immediate Hannah is a part time performing arts lecturer and when she can find the time works freelance on other youth projects.

'I am influenced to make spaces that allow young people to have agency and for their untold stories, experiences and opinions to be heard.'

Sorrel Allen (she/her)

Marketing Officer

sorrel@immediate-theatre.com

Sorrel joined Immediate Theatre as a Marketing Officer in July of 2022, just after completing an MA in Digital Media at Goldsmiths, University of London. Prior to this, she undertook an undergraduate degree in Joint Drama and Media at De Montfort University in Leicester. The course allowed her to build upon her keen interest in film post-production within the field of theatre and led to her successfully gaining the role of Digital Marketing and Community Development Frontrunner for her Drama course. After completing the degree, Sorrel worked as a Social Media Officer within the Marketing Department for the same university, before moving to London for her Master's degree.

Sorrel grew up attending local theatre groups in Wales and taking part in school musicals, plays, orchestra groups and jazz bands. She is now utilising her experience within marketing to return to her love of drama through her work here at Immediate Theatre.

Kyarna Morris (she/her)

Schools Coordinator

kyarna@immediate-theatre.com

Kyarna was a participant of Immediate Theatre when she was 14 years old. After falling in love with theatre, she began working part-time and is now a full-time member of staff.

Her degree in Criminology encourages various perspectives of the challenges young people face in Hackney. She uses this knowledge and her own experience to ensure that the voices of young people are being addressed. Kyarna is motivated towards creating opportunities for individuals that are often neglected.

James Creighton-Goode (he/him)

Administrator

james@immediate-theatre.com

James joined Immediate Theatre in 2023 as the Administrator after working primarily as a theatre producer. He studied Drama and Theatre at the University of Kent where he produced various shows before moving on to train at Mountview Academy of Theatre Arts in Creative Producing. Through his training, James discovered he wanted to pursue the administration and management side of theatre, undertaking several roles as a freelancer after graduating in 2022. He worked at the Golden Goose Theatre as the Administrative Producer whilst simultaneously working as the Production Manager at Cervantes Theatre, the latter seeing him manage their 2023 show season. Outside of this, James has produced shows at the Other Palace, VAULT Festival and other fringe venues.

Originally from East London, James is bringing his experience to Immediate Theatre to combine his love for the arts with his passion for bringing theatre to communities.

Tamsin Hughes

Audio Producer

tamsin@immediate-theatre.com

After making a feature for Hackney Social Radio about a group of friends who go walking in Victoria Park in July 2020, Tamsin joined Immediate Theatre in September 2023. Her background is in audio production, having made work for the BBC, museums and art galleries. She loves talking to people, recording them and is proud to be a founder member of The Hackney and Newham History Social Club.

Carina Vogelsberger (she/her)

Production Assistant

carina@immediate-theatre.com

Carina set roots in Hackney after moving to London for a degree in documentary filmmaking at UCL. She joined Immediate Theatre in May 2023 as the Production Assistant for Voices of Change. Her interest in community theatre and media production stems from her background in the social sciences and volunteer experience in the humanitarian sector. During her gap year in Amman, Jordan, she worked as a videography intern for a local aid organisation, helping collect stories within the community and share them with an international audience.
Carina has always been fascinated by people and how exchanging experiences can help us connect and relate to one another. Naturally, she fell in love with the vibrant and diverse community of East London and is excited to help collect its fascinating stories through the Voices of Change project.

Gavin Dent (he/him)

EbYT Coordinator

gavin@immediate-theatre.com

Originally from Portsmouth, Gavin has resided in many parts of the UK including Scotland, Essex and Liverpool before settling in London. Gavin is a theatre director, facilitator and producer not exclusive to any setting or style. His method and aims of working are inclusive and empowering and his greatest interest rests in his pursuit to consider how theatre can become a method of positive discourse, empowerment and play within a none theatrical spaces.

Freelancers & Volunteers

Working across all areas

Our work is made possible by the support of an incredibly talented bunch of freelancers and sessional staff, as well as dedicated volunteers. Our youth programmes are also supported by Peer Facilitators - young leaders (16-25) paid the London Living Wage and trained in drama workshop facilitation.