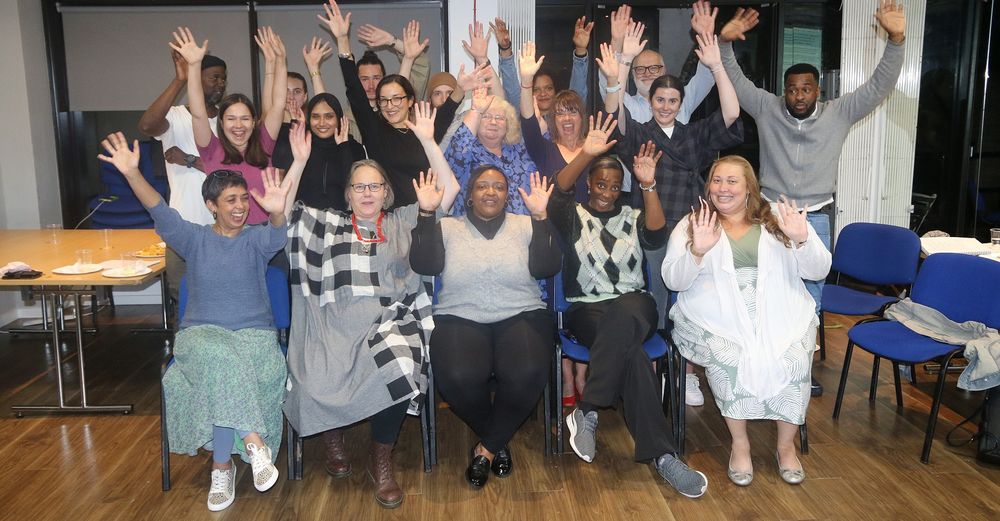 Trustees
At Immediate Theatre, we're more than just a team - we're a community of passionate and dedicated individuals who share a common vision of using the arts to create positive change in our society.
Shekeila Scarlett

Chair

Shekeila was a participant of Immediate Theatre for many years and led our youth board before joining the Board in 2015. Shekeila is a long-standing supporter of our work and has experienced it first-hand. She was born and raised in Hackney and came to us as a participant after being excluded from school in 2008. Shekeila has grown and matured with Immediate Theatre and is an exemplary example of the work we do with young people and how we engage some of the most vulnerable in society. She is now also Chair of the Young Futures Commission in Hackney. And this year has become chair at Immediate Theatre

Paul Smith

Treasurer

Paul has been a banker for over 30 years and currently works for Danske Bank. Prior to this he worked at Société Généralé and has worked for various international banks throughout his career. During this time, he has lived and worked in London, Boston and Milan. Paul grew up and went to school in Manchester before gaining a Politics degree from Durham University.

Paul became a Trustee for Immediate Theatre in 2012 after being introduced to us by Société Généralé's Community Affairs team. He was very keen to re-engage with the arts having been involved in theatre in as a young boy. He was particularly looking to finding a group that combined its artistic endeavours with a programme based on supporting the more disadvantaged members of society.

Professor Melissa Butcher

Trustee

Melissa is Professor of Social & Cultural Geography at Birkbeck University and a resident of Hackney, she frequently chairs debates for the local authority. Melissa is a social and cultural geographer whose research examines the impact of global mobility and local transformation in urban spaces, focusing on questions of identity and belonging as well as the skills needed to manage cultural change and positions of difference. Melissa presents and writes regularly on issues relating to cultural diversity, urban redevelopment & gentrification, globalisation, and urban cultures. Melissa first engaged with Immediate Theatre through our Welcoming the World to Hackney project in 2012 (Olympics) where she volunteered to support our young people with exploration of culture and identity. She went on to create a partnership project with Immediate Theatre "Hackney as Home" employing our participants as social researchers. She subsequently joined the board in 2015 and became Chair in 2016 until 2021.

Richard Harris

Trustee

Richard has been involved with Immediate Theatre since the outset and became a board member in 2003. Until March 2011, Richard was a Senior Project Manager for Southwark Council, with responsibility for local Communities within regeneration. Prior to that, as Development Manager for Education at Springboard, Hackney. He has served on several boards and steering groups representing tenants and local communities over the past 20 years. Richard was Head of Drama at a secondary school in Tower Hamlets for ten years, and an actor for fifteen years, appearing in many west end productions.

Richard has a passionate belief in the power of Drama to act as a catalyst for young people to develop responsibility and pride in their own creativity and supports the innovation and commitment of Immediate Theatre to provide a framework for that catalyst to ignite.

Stephen Moss

Trustee

Stephen is a consultant and facilitator working in collaboration with a range of colleagues to enable positive individual, organisational and social change and joined the Board in 2012. He combines experience from working in the social care sector as practitioner, supervisor and manager - with over 25 years of experience working as an organisational development consultant in both public and private sectors.

Stephen has a BA (Oxon) in Experimental Psychology, MA in Applied Social Studies – Social Work from Warwick University and is a qualified social worker (CQSW). Training includes Advanced Consulting course at the Tavistock Centre, Foundation Year at Institute of Group Analysis and currently, he is training in organisational constellations.

Lisa Oguntoyinbo

Trustee

Lisa is a parent of two previous participants one of whom we supported for many years and eventually employed on one of our programmes. Lisa has a Degree in Applied Theatre and Education from the Royal Central School of Speech & Drama and volunteers for many local organisations in Hackney and beyond. She joined the board 2010. Lisa was presented with a British Citizen Award in 2018 for her 20 years of work with Charity.

Lisa's current work focusses on social change around homelessness working for Cardboard Citizens, Museum of Homelessness and Crisis. Lisa is a qualified NCFE tutor and course accessor, leading on English, Maths and Mentoring working with homeless people.

Lisa is an experienced community fundraiser and has organised successful events for a number of charities including Immediate Theatre.

Gifty Green

Trustee

Gifty is an experienced leader with over 10 years' experience of managing services and teams within children and young people services. She is committed to improving outcomes for children and families through early help to statutory interventions. Gifty has a sound knowledge and understanding of the needs of young people and unaccompanied asylum seekers inclusive, sexual exploitation, offending/gangs and mental health. She has experience of line management and consultancy support of social workers, overseeing the allocation, monitoring of work, ensuring high quality response, analysis, decision making, planning and review in place. Immediate Theatre first worked with Gifty when she was the Contract Manager for our Connecting Young Hackney commission. When she ceased employment with Hackney in 2015, she agreed to stay connected with the organisation by joining the Board. Gifty brings over 20 years' experience of social work and youth work to the Board and has supports us with Safeguarding policy and practise.

Suzanne Gorman (Summers)

Trustee

Suzanne is Artistic Director of Maya Productions, a company making diverse theatre to create change. She is an experienced director, dramaturg and producer, passionate about theatre that enables social change and encourages inclusion. She was previously Education Director at Soho Theatre and has held Associate roles at Derby LIVE, Sheffield Theatres, Theatre Royal Stratford East, and the Barbican.

A Clore Cultural Leadership Fellow, Suzanne led a research project Where Am I? that highlighted theimportance of ethnically diverse role models and leaders for workforce diversity in the performing arts. She now supports sector development through research and facilitation with other organisations, including the National Theatre and as a Tonic Associate. She was a member of the Steering Committee for Performance Live a BBC and Arts Council England project for television and chair of the board of trustees for Theatre Venture. She is also a Relational Dynamic Coach. Suzanne was previously Associate Director at Immediate Theatre. She is delighted to be supporting the ongoing development of such a vital company.

Jack Wong

Trustee

Jack is a Charted Accountant with over 20 years of audit experience, mainly in the financial services industry. He currently works for Vanguard Asset Management, and prior to this he worked at UBS, Quilter plc and KPMG.  Jack is also a member of Vanguard's UK Hometown Grants Committee, which provides funding to local charities to drive community impact.  He is passionate about helping address several areas of need, including youth violence prevention and mental health support.   Jack first engaged with Immediate Theatre in 2020 through the Hometown Grants Committee and became a Trustee for Immediate Theatre in 2022.

Sophia Morris

Trustee

...