Immediate Impact:
What's Your
Story?
Our What's Your Story? workshops use filmmaking and theatre techniques to help participants build employability skills and support them into employment or training. Ada took part in the programme in November 2019 and went on to support the team as a Volunteer, before gaining employment with theatre company Maya Productions.
In this blog, Ada reflects on her experience with Immediate Theatre and how it's impacted her.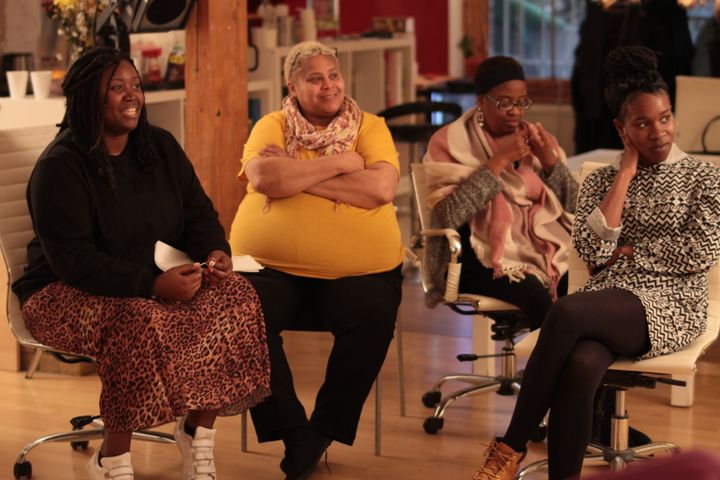 My name is Ada and I am a Hackney born and raised resident. I've always had an interest in the arts, but have never truly pursued it before. I came across What's Your Story? at a critical period in my life, where I was feeling rather lost and in need of some direction. I felt that I had significant barriers to overcome and it looked like something that would be of interest and the kind of thing I was looking for in the sense that it was very welcoming, and our particular group was for women of colour. I have not seen anything comparable and that's what intrigued me; I was instantly drawn to something that was targeting women of colour about actions and aspirations, offering individual advice on employability and education. It was kind of a light spark moment.
The project uses the arts as a way to instil confidence and aspiration, and using the tools of theatre to really bring people together and really lift each other, especially women. So for example, I'm not the best public speaker at all, I'm rather shy, but standing up and doing the theatre exercises in the workshops, it was almost like we had room to play. In real life we don't have room to play, to really let go and really be yourself and share in a very positive and uplifting group. That was really encouraging.
When I first met Gbenga, the project leader, to discuss participating in the workshops, I was very vulnerable. I conveyed my struggles to him and he was so compassionate and so encouraging and made me feel more positive than I have felt in - I can't tell you how long. For want of a better word, I actually felt safe. He was the first person I was introduced to at Immediate Theatre and, whether he believes it or not, he's had a lasting impact. Hannah was lovely as well. I mean, the people we would see daily in the workshops would be Gbenga and Hannah - they made it fun and engaging, and they were very compassionate and supportive. It was like being part of an extended family.
During the workshops I learnt so many new skills, but it also helped me to discover the skills and strengths I already had. I definitely learnt to vocalise and express my needs and wants. I think because I was able to do that in a very compassionate environment and be able to speak out, that's given me the ability to challenge myself. It really gave me the opportunity to build my confidence. I was pretty lost and in need of guidance and support. From the first morning of the workshops, amongst the diverse group of women, we were connecting and sharing our experiences, our desires for the future. It was so affirming and we were truly able to express ourselves using the creative activities and exercises.
As part of the programme we created a documentary film. We were given roles and responsibilities during the filming - we all rose to the challenge and it instilled such a sense of achievement, seeing what we had put together in such a short amount of time. It really solidified a really great network of support. Working within a group, learning diferent things, technical aspects of camera, lighting and sound. We had to interview some guests for our final video and learn how to set up sound and lighting, working in a group, getting that kind of dynamic again - especially if you've not been in a group situation for a long time. It's like team building, everyone having their own strengths and weaknesses but really supporting each other. I've learnt so much from each and every one of them.
During the filming, the head of Immediate Theatre, Jo Carter, came to talk to us about starting her business and her struggles - she started Immediate Theatre in a council flat, on her own - how she really challenged herself and pushed herself forward to make it what it is today - I found that really inspiring!
After the workshops, I was able to get a volunteering position at Immediate Theatre. I wanted to learn more about community arts and theatre. I was given the opportunity to do a couple of days a week with the team in the office. Everyone was so lovely and supportive. To be given that chance to dip my toe and actually develop a better practical idea of what it involves was so helpful - because obviously what you think it involves and what it's actually like can be quite a different reality. I was able to gain experience with project administration, supporting the delivery of their project with older people, so genuinely learning more about the community arts sector.
I did that for a while, until March 2020 - and then obviously lockdown happened. Now I'm working part-time with a small theatre production company called Maya Theatre, who specialise in showcasing diverse theatre from marginalised groups. It's really been an eye opener and I'm loving it! Like Immediate Theatre, they don't have their own theatre venue, and it's much smaller than Immediate. But it has a really long heritage showcasing diverse theatre. The Artistic Director is based in South London, but she used to work a lot within Hackney, so there's still that link there.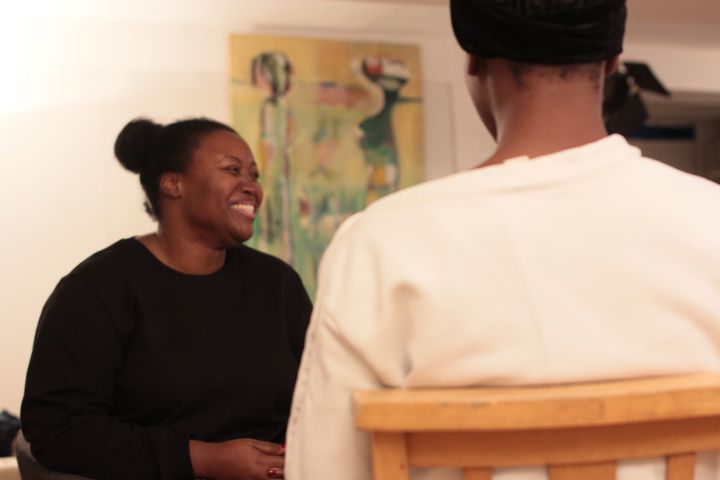 If I had to sum up my experience with Immediate Theatre, I would say it is somewhere safe where you can use creativity to express yourself. They create a welcoming community, a place where participants are actually heard. There's no hierarchy, they speak to participants at their level - no matter how young or old they are - and they listen, engage and respect. There's a very dynamic and responsive network amongst the participants, especially the kids - it's beautiful to see!
To me, Immediate really stand out because their vision is truly community based. They're there, not only to facilitate and support, but to help guide and help you truly believe you are capable at times when we're not able to do that ourselves. They also help us rediscover the tools that we have and utilise them to move forward - it's not about where you come from, it's about being in the moment and where you are going next. They're one of a kind and I'm very grateful to have been part of such a unique experience. It's been a really uplifting and positive period in my life.
To find out more about What's Your Story? contact Training Manager Gbenga via gbenga@immediate-theatre.com or 07946801416
Listen to Hackney Social Radio
Get more information about Hackney Social Audio
Latest Episode