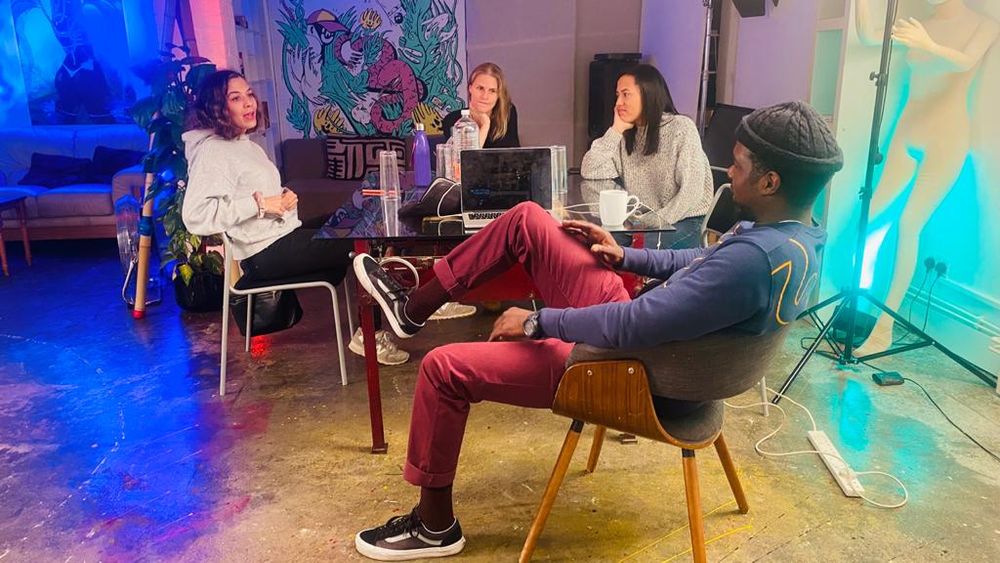 Lockdown Diaries:
Raine, Oxoline
& Reetta
Oxoline, Raine and Reetta took part in our What's Your Story? programme in September. In part two of our Lockdown Diaries series, they discuss losing jobs, finding motivation and their experience of the workshops.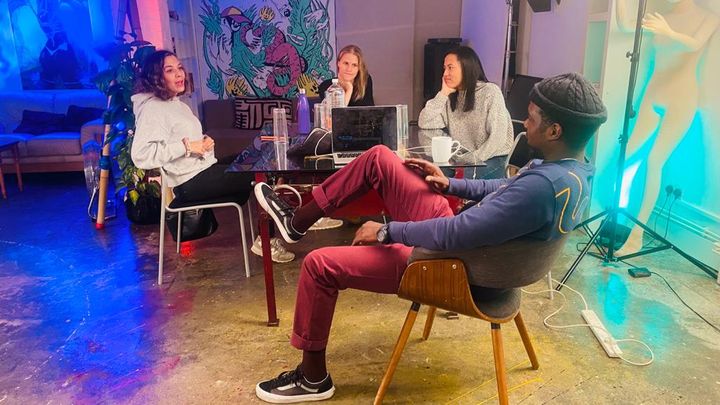 Raine: Hi! My name's Raine and I'm 23 years old. I was born in London and have lived here ever since. I recently graduated from my studies in Film Practice, and I aspire to be a film director one day. So I have loads of interest in the film industry, films, theatre – anything creative really!
Oxoline: Hello, my name is Oxoline. I'm 23 years old and I'm from France. I moved to London about a year and a half ago, after graduating from university. I have an International Business Management Bachelor degree, as well as Art & Design A Levels equivalent. I spent a year working within the Creative Industry as a PR Assistant in a communications agency.
Reetta: I'm Reetta, I'm 24 years old. I am from Finland and lived in London for 5 years. I dance, I'm a professional dancer. That's me!
Raine: Originally, when the lockdown first happened back in March, I was okay with it because it felt like a holiday. But as time went on, it became really boring, being stuck at home and you can't physically see people. I suppose not being able to go out had a big impact because you just feel lonely and isolated. That's what I felt.
Oxoline: What I struggled the most with in the first lockdown was losing my job and then having to step in a completely different routine. It was mentally hard to find that balance between keeping myself active or productive and taking time off for myself without feeling guilty. Being away from my family and friends was also harder than usual as we were all being affected, one way or another, by what was going on, and still are today.
Reetta: It completely changed my daily life because first I was out of a job and then, suddenly, I was working 14 days straight doing 10 hour shifts in hospitals. It was quite a drastic change and obviously no dance, dance jobs or anything creative or performance wise. And then everything being online which I really didn't like, and I still don't, but am now more used to it. I just had to deal with the fact that dance classes are on Zoom, and meetings are on Zoom. At the same time, I'm really grateful for it and that I can still keep working towards something – but it's just not the same. And having to dance in your room – my room is tiny, I can't even dance in there properly! It was nicer in summer when you could go outside and go to a park but still… very different.
Raine: I think for our generation, what was impacted the most was socialising. Because even though we socialise a lot through social media, I think socialising in person has a big impact on us and myself especially. It feels like missing out, and even though you can talk to people online, I feel like we're missing that real bond.
Oxoline: Yeah, I guess that like any age group, COVID had a massive impact on our social life – not being able to meet up with friends, going for drinks or a night out… Other than that, I believe it is much harder for young professionals or recent graduates to land their first real job amongst this.
Reetta: Most people I know are out of jobs right now. In dance especially, a lot of us are freelancers or we have 0 hours contracts with part-time work on top of that. There's no dance work, then the part-time jobs are gone, so there is literally nothing. Not just dancers, but everyone around this age group are losing jobs, it's crazy!
Raine: I was referred to What's Your Story? because it's film focused, and as a film graduate I felt like it would interest me and I could connect to the project. I feel like the programme did have a big impact on me as it was right after the lockdown, it gave a reason to leave the house. Due to the first lockdown I couldn't work, so Immediate Theatre's workshops gave me a reason to become more focused. Especially as I've recently graduated, I was used to doing a lot of work, so the programme gave me a reason to focus on something.
Oxoline: The biggest thing to me was that What's Your Story? brought people from a creative and artistic background together, which totally helped with us getting along and developing a great dynamic while working as a team. I was introduced to the programme through my work coach from Poplar Job Centre. I saw it as an opportunity to keep myself busy, in a 'professional' way, and to be with people around my age who are in a similar situation as me. I have to say I didn't really know what to expect at first, but definitely enjoyed every second of it!
Reetta: I also heard about it from the Job Centre. I saw the name 'Immediate Theatre' and thought at least it's something related to performing arts or some creative work, so this is what convinced me to go and see what it was about.
Raine: My experience was really good, really insightful. I really enjoyed working with both of you – people from different backgrounds and careers with different goals, but working together to create the project. I learned a lot about working with different types of people. We all had different job roles and it was really insightful to learn from each other. Even though I'm a film graduate, I did actually learn some new film techniques by working alongside Gbenga.
Oxoline: What I really enjoyed was that it felt a very safe place where we could all freely exchange and discuss many different topics. I've learned that it was OK to feel vulnerable or have doubts, because everyone feels this way at some point, especially during these weird times.
Reetta: It was great to meet both of you because I've always loved connecting with creative people and different individuals. It's crazy because how did I manage to connect with all these people at a time when we're not allowed to see anyone? We all had lots of ideas about what we were doing there or what we wanted to do with our lives, which was interesting to hear. It was definitely very relevant too! Everything we talked about with Gbenga about creating your own work was important for me to hear, so I wouldn't get stuck in this madness in my head – waiting for work or waiting for something to happen when there are ways I can make work for myself. That was definitely very helpful.
Raine: During the conversations with Gbenga, about going out and trying to create your goals, it was actually insightful because it showed me maybe I should believe in myself more. It inspired me to just do my own thing.
Oxoline: It definitely made me realise how I missed creating and experimenting things or being involved in an artistic process working with creative people. It helped me see how important imagination and creativity can be in general, and how they can help us dealing with the current situation.
Reetta: It definitely inspired me to start working towards ideas I had in my head and start looking into how I could make these things happen. I've started to look for funding and talking to people I know about different ideas and how to make them happen.
Raine: Although we're in a second lockdown now, it's impacting me in a different way to the first, because now we have more information on the whole COVID virus, so people are less nervous and scared. Obviously we're not really able to leave the house, but I feel like I am more inspired now, I have stuff to look forward to. I'll be helping Gbenga with the next 'What's Your Story?' workshops so I'll be on the other side now.
Oxoline: I agree the second lockdown absolutely feels different than the first one, I've learnt what I should, and especially shouldn't, do while I'm stuck at home. So in a way I'm better prepared for it, although it obviously is very frustrating to lose that little bit of freedom we managed to get back over the summer. I'm currently volunteering with Immediate Theatre, I support them with marketing and communications, which is very helpful because it keeps me being productive and helps improve some of my professional skills as well.
Reetta: In general, I think this lockdown is not the same at all, it's not as strict. I'm just very annoyed and done with it. Maybe I'm just being biased, but I feel like they're attacking certain groups of people with these restrictions, especially young people. But I'm still working on my own project. I'm applying for this developing and creative practice fund from the Arts Council. I think they open the funding at the end of December, so I'm using this time to research and write the application.
Raine: The whole COVID situation makes you feel uncertain, but these workshops made me feel inspired. If there's any advice I'd give to the next participants, it would be to go for your goals, and that is it totally OK to be nervous. Everyone's nervous trying new things, but once you continue doing something you'll eventually feel more confident.
Oxoline: Although it's been tough for all of us, there are still good things and opportunities happening out there – this workshop being one of them – and this is what we need to focus on.
Reetta: This experience has been challenging but rewarding. I managed to up my training a lot because I had time to focus on myself, and figure out what I actually want to do and start working on my own projects.
Help us continue providing employment support & opportunities for young people as we navigate the coronavirus crisis. Donate now
Watch 'Amplify Within' – the film created by Raine, Oxoline and Reetta during What's Your Story?, which uses poetry, contemporary dance & music to portray anxiety and the challenges we face within ourselves.
To find out more about What's Your Story? and join our next set of workshops, starting Tuesday 8th December, contact gbenga@immediate-theatre.com or phone 07946801416
Listen to Hackney Social Radio
Get more information about Hackney Social Audio
Latest Episode