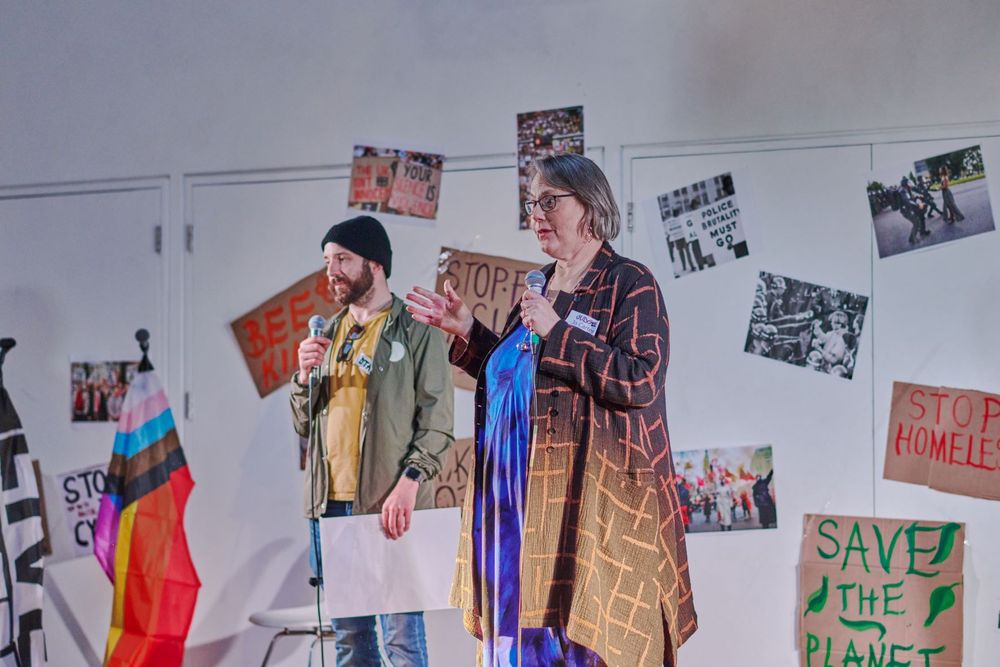 Open Your
Ears! Social
Action Event
On Thursday 24th March we held our annual borough-wide social action competition event, welcoming our Estate-based Youth Theatre groups to perform for each other and a panel of judges at Forest Road Youth Hub.
The 'Open Your Ears!' Social Action Event was the culmination of our social action project across our EbYT groups this term. Here is a full roundup of the event.
For the first time since our 'Our Voices, Our Choices' competition event in March 2020, we brought all of our youth theatre participants together in one room to share their projects for social action causes.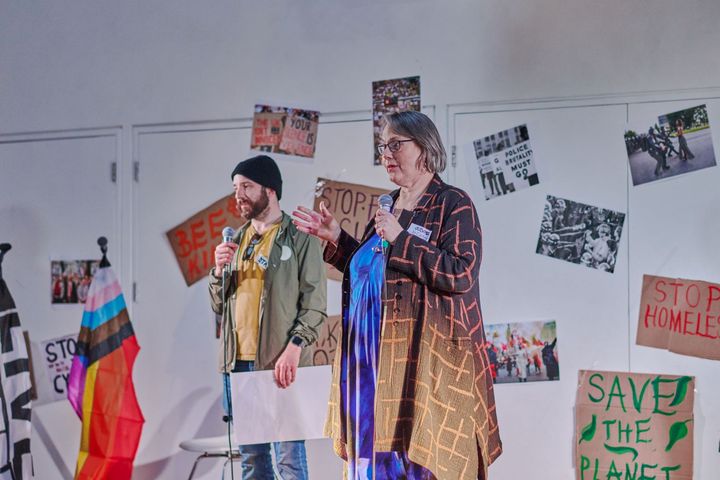 Each of our groups chose their own topics, identifying a social or environmental issue they felt passionately about and an art form to express their ideas. The topics included plastic waste, ocean pollution, racism, homelessness, fast fashion and bullying, expressed through art forms including drama, dance, music and audio. The groups received helps from experts during the project, including a workshop with Kay Michael from Letters to the Earth and a visit from the Hackney Winter Night Shelter team.
We were proud to present the culmination of this work at the Open Your Ears! Social Action Event on Thursday 24th March at the Forest Road Youth Hub. The event was a great success, with all of our groups putting so much effort into their final pieces and showing so much enthusiasm for each other's performances.
The groups each presented their final pieces to a panel of judges for the chance to place in the top 3 and win prize money to be spent on a group activity of their choice.
We kicked off the evening's performances with Forest Road Youngers (ages 5-12) who presented a piece about plastic pollution. They chose to show the impacts of plastic closer to home, focusing on plastic waste in the household and the harm that plastic can cause to family pets.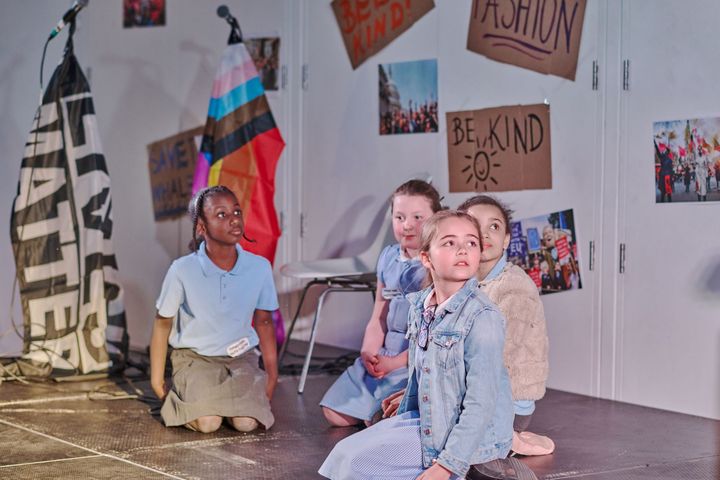 Next to take to the stage was Kingsmead Youngers group 1 (ages 5-9) who told the story of what happens to plastic when it is thrown into the ocean through a puppet show. This was followed by Kingsmead Youngers group 2 (ages 5-9), who used dance and masks to explore the use of animal products in the fashion industry.
Our next group, Kingsmead Olders (aged 9-13), chose to focus their performance on racism.
Nightingale Youth Theatre (ages 8-12) explored the impact that we have on the natural world through role play and creative writing. They worked with Kay Michael, theatre-maker, activist and Co-Founder of Letters to the Earth, to write letters from the perspectives of different elements of nature. They presented these letters to the audience, reading from the perspective of trees, flowers and bees.
Pembury Youth Theatre (ages 7-13) used drama to explore the different forms of bullying within school. They recognise that it can be difficult to ask for help when being bullied and shared this through their performance.
And finally, closing the event were Huddleston Youth Theatre (ages 12-25), who chose to explore the issue of homelessness. Their piece was informed by a visit from the Hackney Winter Night Shelter and used a combination of music, rap and spoken word to share their views.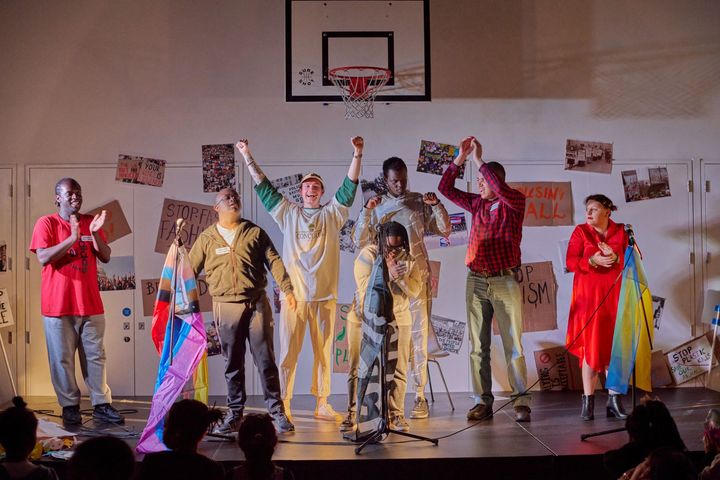 With the performances done and dusted, the judges went off to deliberate and choose their winners – a task we definitely did not envy! This year's judging panel was: Jo Carter, Artistic Director of Immediate Theatre; Shekeila Scarlett, Chair of Trustees, Steve Roberts, participant of our Theatre Exchange and Hackney Social Radio projects for over 50s; and Nadya Bettioui, former Project Manager at Immediate now working at the National Theatre!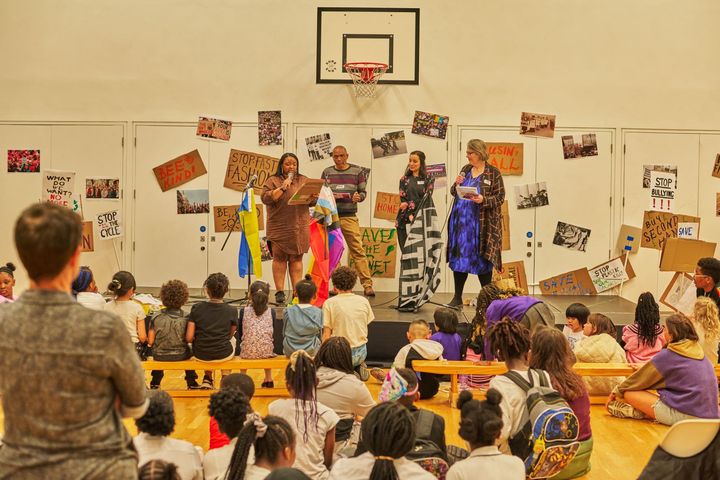 And the winner is…
The judges were so impressed by the performances that they found it impossible to pick just 3 winning groups, and gave out special commendation prizes to an additional 2 groups! They then announced the top 3 groups, who would be awarded prize money to be spent on a group activity of their choice.
Forest Road Youngers took the third prize, with the judges praising them for presenting the issue from a new perspective. In second place, Pembury Youth Theatre! And finally, in first place and winners of the grand £150 prize, Nightingale Youth Theatre! The judges were blown away by this group's performance, particularly as it was their first time meeting in person since Covid!
All of the young people worked so hard on their projects across the term and we are so proud of what they achieved. Unfortunately we weren't able to welcome parents and carers to see the show, but the performances were filmed. We'd like to say a special thanks to Young Hackney and the team at Forest Road Youth Hub for hosting the event. We're also incredibly grateful to our judging panel for giving their time and putting so much thought into the process, and to our photographer Shoib Ahmad!
Listen to Hackney Social Radio
Get more information about Hackney Social Audio
Latest Episode