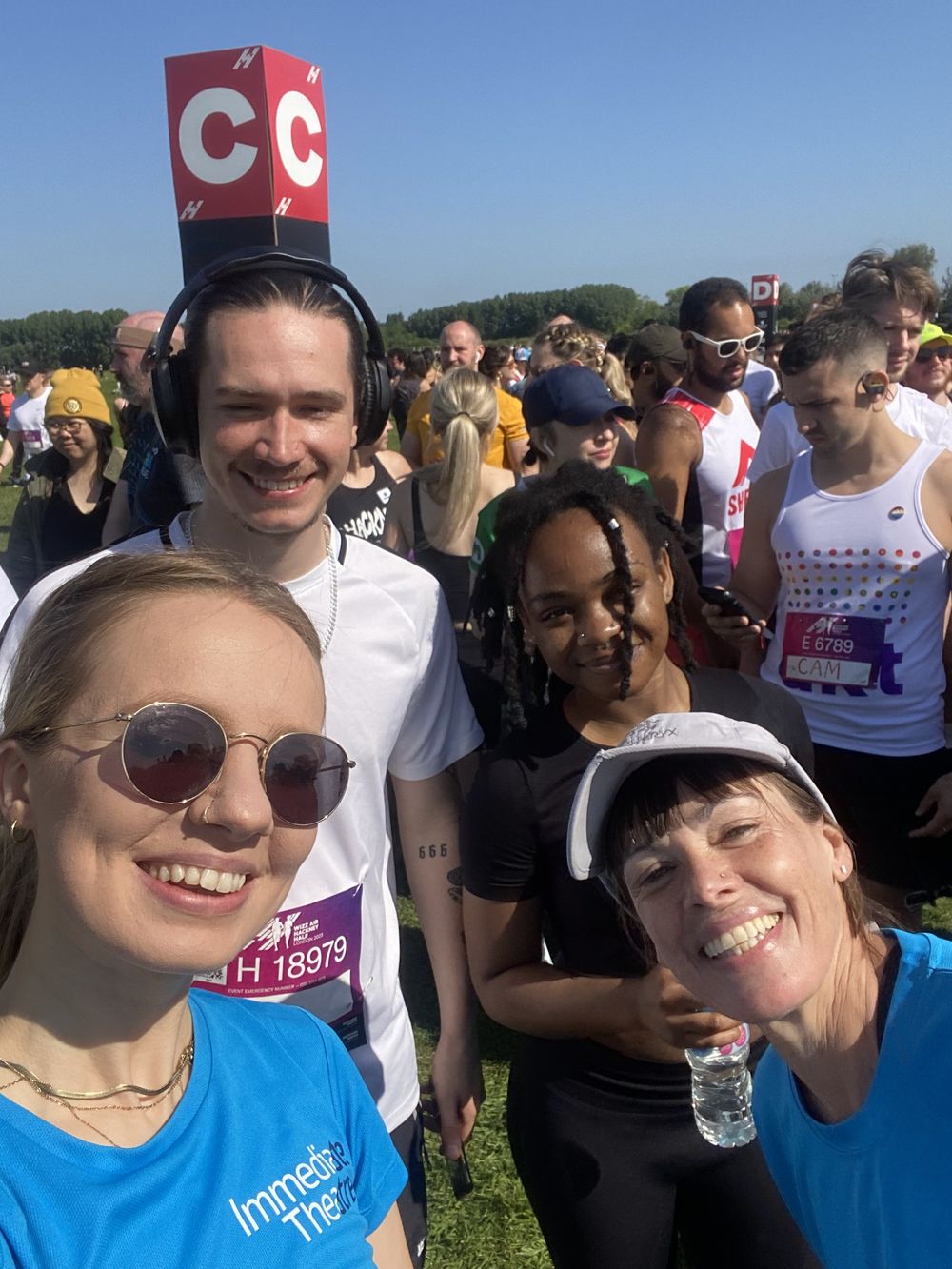 We Ran
the Hackney
Half Marathon!
Last Sunday, 21st May, Immediate Theatre took part in the Hackney Half Marathon!
Last Sunday, on the 21st May, Immediate Theatre staff members and our trustee, Melissa Butcher, ran the Hackney Half Marathon. The 13 miles started and finished at Hackney Marshes and explored the vibrant streets across the borough, circling the Hackney Downs right by our office, crossing the canal by Broadway Market and zigzagging back to the start via Hackney Wick.
We decided to run the Hackney Half marathon this year for many reasons. As an organisation that works closely with Hackney's community groups, we are always keen to immerse ourselves within local events and activities to inspire others to engage in too. Secondly, a few of us at Immediate Theatre are runners! It was a great opportunity to unite in this hobby and work together as a team. Lastly, we wanted to raise some money for our Estate-based Youth Theatre work, which provides high-quality, open access theatre workshops to young people across Hackney. We no longer receive specific funding for meals on this programme, so we recognised the importance of raising some money to provide food for our participants.
As happens most years the Hackney Half takes place, the sun was beating down on the day of the race, but it didn't deter our runners!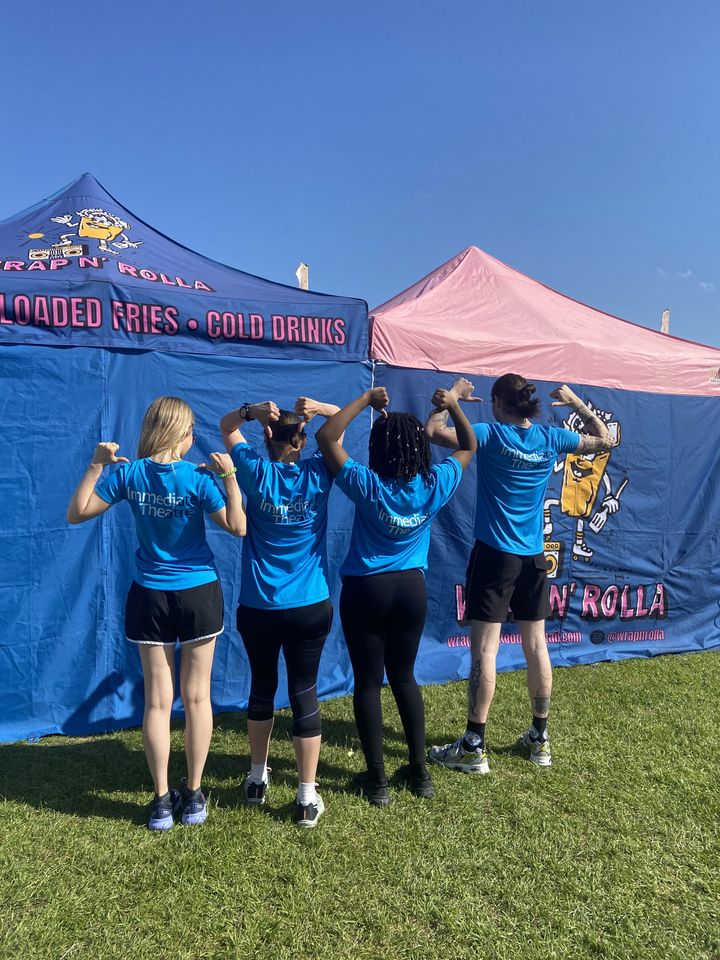 After a quick photo opportunity on Hackney Marshes, it was time to join the waiting area in the pens before setting off!
Our Schools Coordinator, Eleanor Clack, was right at the start of the race to wish our runners luck as they started the thirteen-mile race ahead of them.
My highlight was seeing so many people cheering on friends, family and strangers! The sense of community was incredibly powerful.

- Eleanor Clack, Schools Coordinator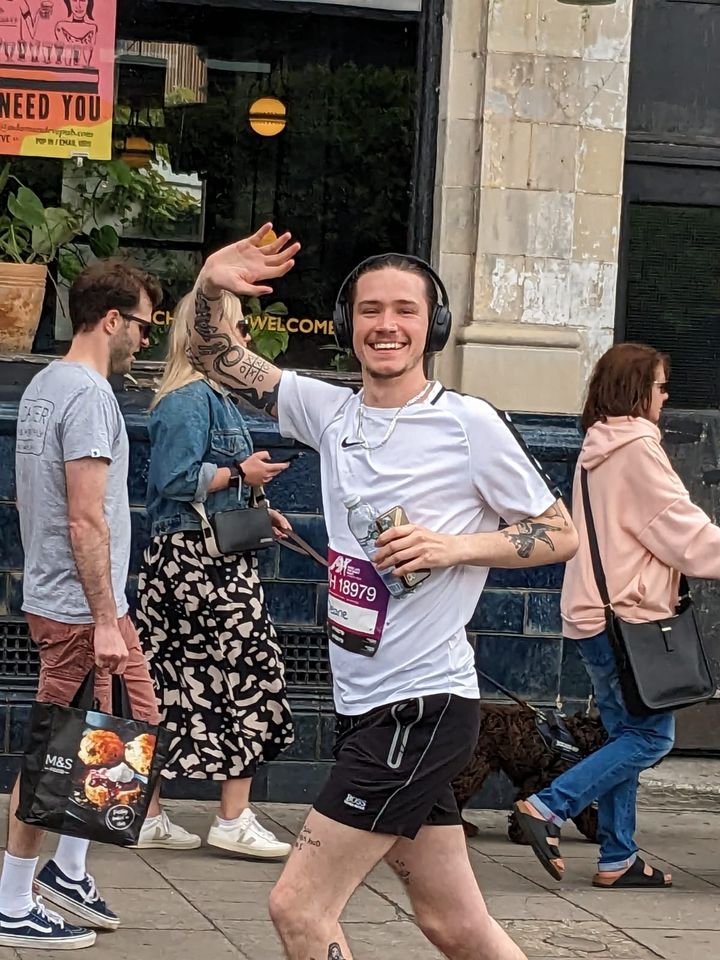 Jo Carter, our Artistic Director, was stood near the office to snap some photos and shout some encouragement as the runners hit the three-mile mark.
There were SO many runners on the day, around 24,000 I believe, and I was impressed by every single one!

- Jo Carter, Artistic Director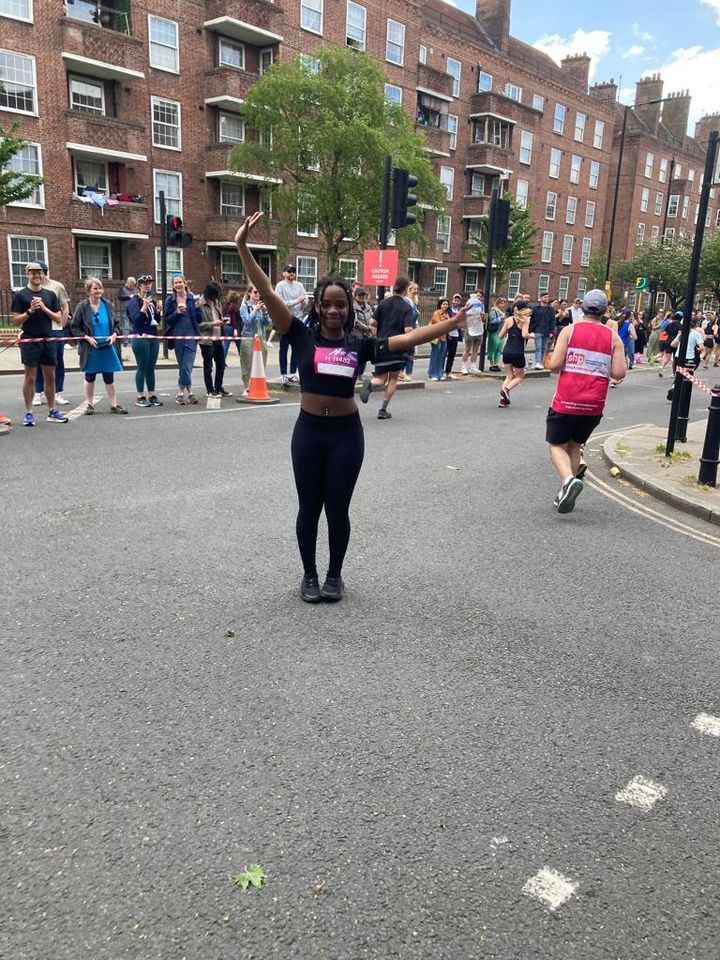 I was excited to be a part of a new challenge. It was m first time participating in a Half Marathon and since it was in my community, I felt supported.

- Kyarna Morris, Youth Drama Leader
The race inspired lots of funny signs from Hackney residents who gathered around the streets to cheer runners on and hand out sweets. Our trustee, Melissa Butcher, was particularly impressed by the variety of entertainment and encouragement from local residents and musical performances.
The crowds around London Fields were a real highlight. The atmosphere was there at the start and finish, and I loved the choir singing near Victoria Park. My favourite sign read 'Pain is just French for Bread!'

- Melissa Butcher, Trustee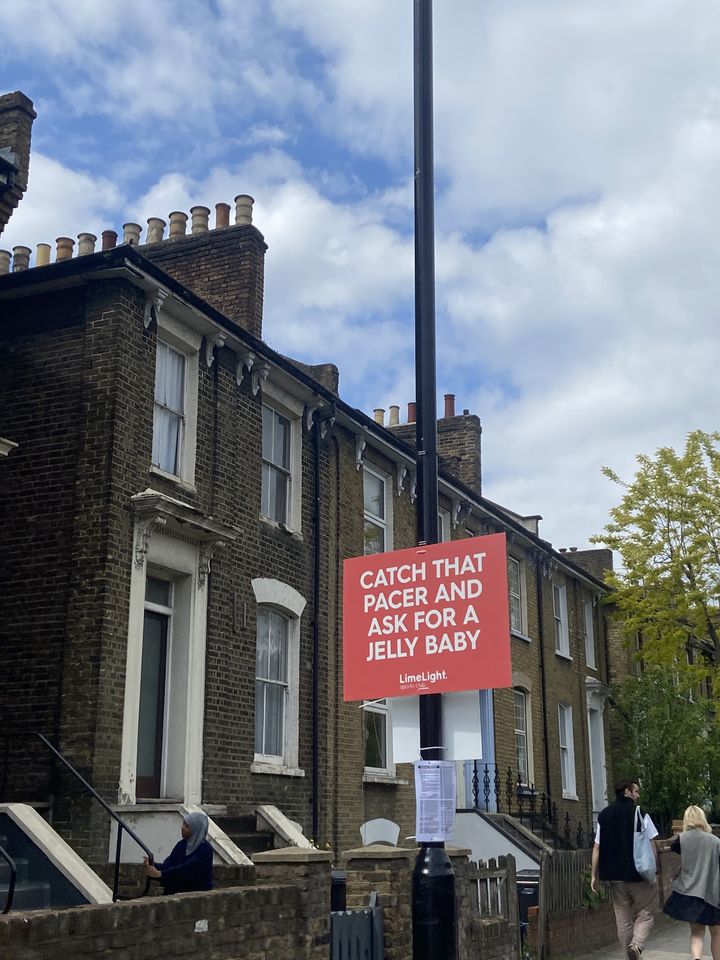 Audio Production Assistant, Leo Dunlop, and EbYT Involvement Coordinator, Hannah Drummond, stood near the end by Victoria Park to spur our runners on for the last leg of the route and to snap a couple more pics!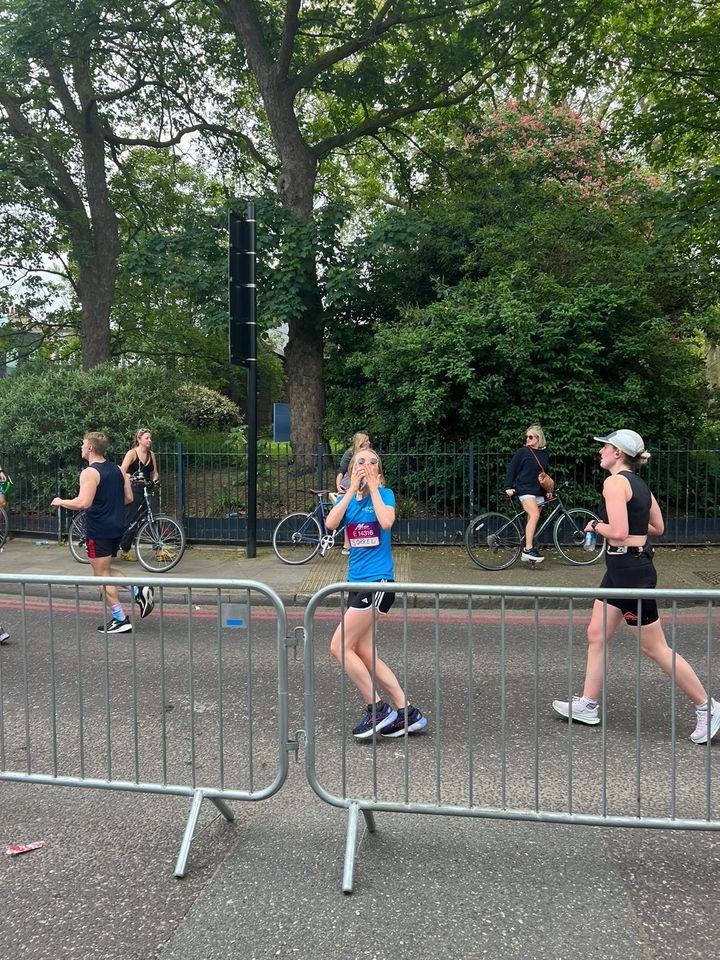 It was such a great feeling nearing the end, the encouragement from everyone watching was really motivating. It was particularly great to have the Immediate Theatre team watching and cheering us on at various points throughout the course.

- Sorrel Allen, Marketing Officer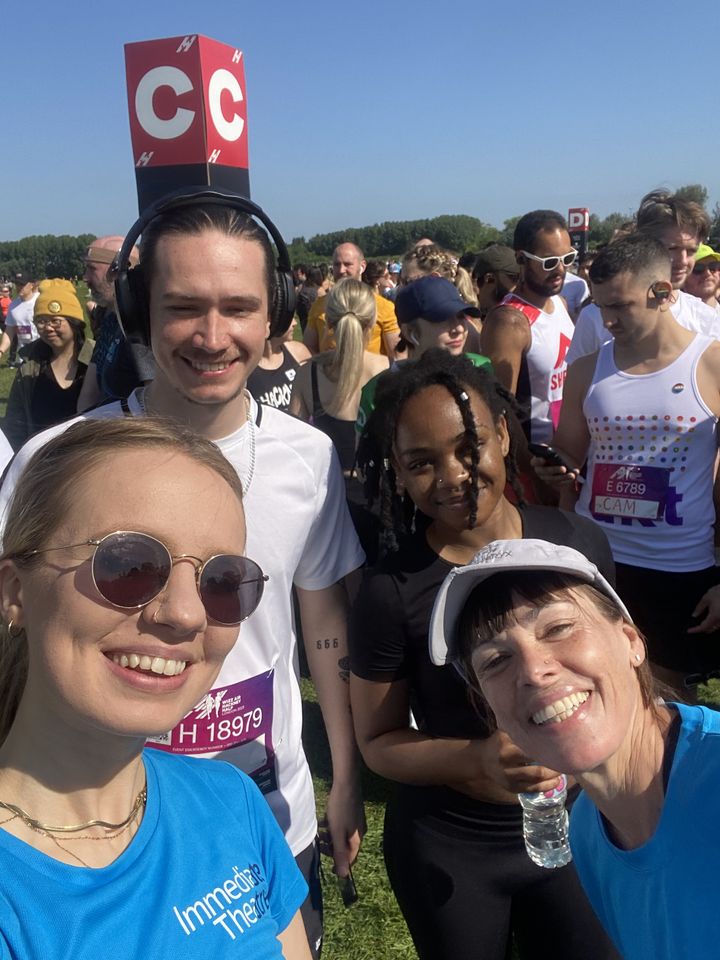 Our runners did an incredible job on the day, and Immediate Theatre had a brilliant time coming together to celebrate hitting our fundraising target at such a lively event. We feel so grateful to our loyal supporters who believe in our work and want to support the opportunities we provide to young people, enabling them to engage in arts opportunities that they usually don't have access to.
Our runners are resting their legs for now, but you will likely see us at the Hackney Half Marathon 2024!
If you would like to donate to help us provide food for our Estate-based Youth Theatre participants, please follow the link: https://gofund.me/c7a95ec4
Listen to Hackney Social Radio
Get more information about Hackney Social Audio
Latest Episode